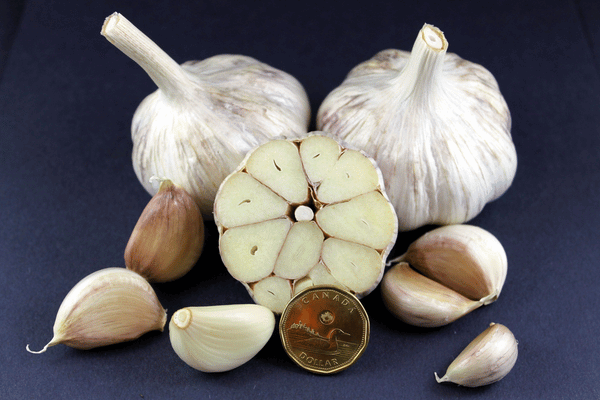 Naples™ Ice® Garlic Extra Jumbo 2.25" Hardneck
---
---
---
NAPLES™ is one of the sweetest, most delectable heirloom hardneck garlics we have ever grown! As a culinary garlic, it is a wonderful way to enhance even the most delicate of sauces. 8-12 cloves in slightly purple coloured wrappers. With a shelf life of 4-5 months , this is one garlic you can hold onto and enjoy for a while to eat sooner than later. Hard neck variety. Extra Jumbo has a head size of 2.25"  in diameter. Price is per garlic head. Perfect for seed garlic as well as for fresh eating. Our 2019 crop is ready for sale as of September 3rd. 
Free garlic growing guide with purchase.
We reserve the right to limit quantities.

Why the Loonie in every photo? We've thought long and hard about how to clearly show how large our garlic varieties grow. Take a Loonie in your hand and look at our photos. Probably the biggest garlic you've seen, eh? Every one of our varieties can grow like that.
---
Share this Product
---
---