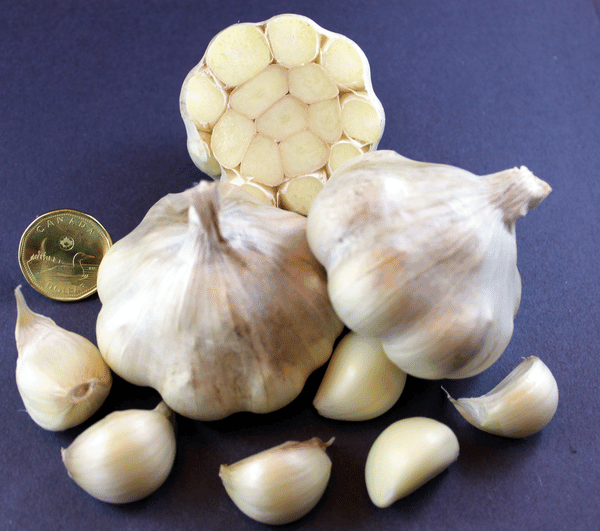 Mama Mia™ Ice® Garlic Extra Jumbo 2.25" Softneck
---
---
---
MAMA MIA™ is a very sweet and mild softneck heirloom garlic from Northern Italy. As a culinary garlic, it is ideal for roasting and savory sauces. Smooooth flavour. Good storage longevity. Considered an artichoke variety, heads have between 10-14 large cloves as well as a few smaller ones. Beautiful brown wrappers. This soft neck garlic braids beautifully with its very pliable shoots. Extra Jumbo has a head size of 2.25" in diameter. Price is per garlic head. Perfect for seed garlic as well as for fresh eating.
NOTE: Our Mama Mia dried quicker than anticipated this year and, as a result, we have not been able to clean it as well as we would like to. The garlic itself is perfect but the outer wrapper has a bit more dirt on it.
Our 2019 crop is ready for sale as of September 3rd. 
Free garlic growing guide with purchase.
We reserve the right to limit quantities.
Why the Loonie in every photo? We've thought long and hard about how to clearly show how large our garlic varieties grow. Take a Loonie in your hand and look at our photos. Probably the biggest garlic you've seen, eh? Every one of our varieties can grow like that.
---
Share this Product
---
---